295 - The Paradigm Shift We Need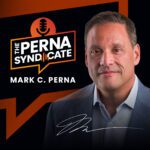 Episode: 295
Episode Title: The Paradigm Shift We Need
To bring communities together around purpose-driven education, we need a catalyst. For more than a year now, that's what I've been working on. Find out more, next on The Perna Syndicate.
Ep 295 show:
You are now in The Perna Syndicate—welcome! Yesterday, I shared the alarming report by the Bureau of Labor Statistics that America now has 10.1 million unfilled jobs. How can companies thrive without the skilled labor to power their business? 
I believe that only a major paradigm shift can align America's education, workforce and economic development systems. And that alignment is what we need to fill crucial talent pipelines. 
There are many voices talking about the need to build better partnerships between education and industry, to better connect students with their future careers, but very few are actually in a position to do something about it. 
That's why I feel so fortunate in my work to operate at the intersection of education, workforce, and economic development. I use my platform to spread the message of purpose-driven education and this October I'm opening it up to everyone. Every community across the country needs to start a serious dialogue about shifting the paradigm at the local level. 
For more than a year, I've been working on a catalyst to make this happen on a national scale. I'm proud to share that on October 21, I'll be delivering a Call to Action virtual event to bring communities together, shrink the skills gap, and get your stakeholders on board. 
You can find out more about the Call to Action at EWPAction.com. I'd love to see you there as we work together to bridge America's critical labor and skills gap. 
Thanks for being part of The Perna Syndicate this week. I'm your host, Mark Perna, and it's a pleasure to connect with you here. We'll be back next week with more on education, careers, and personal success. See you then!
---
---
---