294 - America's Record Talent Shortage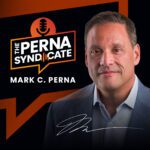 Episode: 294
Episode Title: America's Record Talent Shortage
There's never been this many open jobs in America. Where are all the workers? Let's talk about it, coming up next on The Perna Syndicate.
Ep 294 show:
Welcome—you're now in The Perna Syndicate! This summer, the U.S. hit a record-breaking number of open jobs: a whopping 10.1 million of them, according to the Bureau of Labor Statistics. It seems that every company in the nation has a "Help Wanted" sign hanging on the door. So where are all the workers?
Many haven't rejoined the workforce yet after being laid off during the pandemic. Others, especially women, can't work full-time due to lack of childcare and an uncertain school year ahead. Some workers have found a place in the gig economy that pays enough to get by. Still others may be hesitating to jump back into the workplace due to health concerns.
Then there's those who are actively looking for work, but are struggling to find a position commensurate with their experience and skills. Many employers are still requiring multiple years of work experience, even for entry-level roles, and it puts recent graduates in a tough spot.
Somehow, all of this is adding up to an unprecedented number of unfilled positions in the American workforce. Left unchecked, this will threaten the country's economic recovery. Something has to change.
This challenge is one that I'll be addressing in depth at the 2021 Education with Purpose: Call to Action on October 21. This livestream event, open to everyone, will deliver real strategies to fill our talent pipelines. But the short version is this: we need to break down the siloes between education, workforce, and economic development—and motivate the next generation to pursue the high-demand careers of the future.
Why do we so desperately need a paradigm shift to reverse this trend in the American workforce? We'll talk about it tomorrow on The Perna Syndicate…see you then!
---
---
---