296 - If You Love the Work-From-Home Life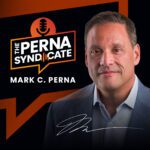 Episode: 296
Episode Title: If You Love the Work-From-Home Life
If 87% of workers want the ability to work from home after the pandemic, how are they going to approach their employer about it? Find out more, next on The Perna Syndicate.
Ep 296 show:
Hello and welcome! I'm your host Mark Perna and this is The Perna Syndicate. Over the past 18 months, remote work has become a hot topic. Getting connected, closing any cybersecurity loopholes, and figuring out the technology of video meetings were all hard at first. But many people who initially struggled with remote work now want to keep it—long term.
A study by Prudential found that 87% of adults who were able to work from home during the pandemic want the ability to continue doing so once the pandemic is over. That's a pretty strong majority!
And yet as things slowly return to normal, an increasing number of employers are bringing their employees back into the office. So where does that leave those of us who now love the flexibility of remote work—and don't want to give it up?
It's time for a candid conversation with your boss about the pros and cons of working remotely. In a word, you need to negotiate. This week, we're going to talk through the strategies that will help you make the case for remote work and why it helps not just you, but also your company.
The goal, of course, is to find a solution that keeps everyone happy and productive. It has to be a win-win for both sides. If you love the work-from-home life, take heart. The good news is, with 87% of currently remote workers wanting to keep that option, you're not alone. 
Tune in tomorrow to take an objective look at the upsides—and potential downsides—of your remote work and how to approach the conversation with your boss. We'll see you back here tomorrow on The Perna Syndicate!
---
---
---