25 - What We Can Learn from Megan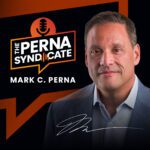 Episode: 25-what-we-can-learn-from-Megan
Tease: What can we learn from the Millennial woman who used her career in welding to graduate with a bachelor's degree—debt free? Stay tuned now on The Perna Syndicate to find out.
Ep 25 show:
Hello, and welcome to The Perna Syndicate! This week, we've been talking about Megan, a Millennial woman who not only succeeded in the male-dominated field of welding, but who also used her welding career to earn a college degree, debt free. Now, I want to look at exactly what she did to build her competitive advantage. 
Individually, academic knowledge, technical competency, and professional (or soft) skills are all valuable attributes to possess in the workforce. But put together, they become the single most dynamic and powerful competitive advantage in today's new economy. Megan worked hard to gain all three: high grades, the technical skills required to weld, and professional skills like work ethic, punctuality, leadership, communication, and many more. 
Once she started at John Deere Davenport Works – in Davenport, IA, Megan realized that her employer would fund two-thirds of her college education. So if you're an ambitious young person, why not? Two and a half years later, Megan graduated with a bachelor's degree in business—and zero student loan debt. 
Most people don't think of welding as a way to go to college, but that's because we just haven't realized that there are many pathways to success. Not all of them are conventional, and that's okay. 
For Megan, combining robust academic knowledge, technical competency, and professional skills is what ignited her career. At age 25, she's already well on her way to the top. And the most exciting part of her story isn't even written yet. Knowing Megan, it will be smart, ambitious, and just a bit unexpected. 
The Perna Syndicate is all about you — together we can shift the paradigm in education and workforce development. Join me at MarkCPerna.com for more, and thank you for making a difference.
---
---
---