24 - Megan's Unconventional Path to Success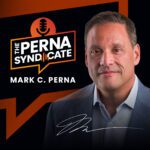 Episode:24-Megan's-unconventional-path-to-success
Tease: Today on The Perna Syndicate, we're going to be inspired by Megan, a Millennial who found an unconventional path to college and career success—debt free.
Ep 24 show:
Hello, and welcome to The Perna Syndicate – I'm Mark Perna! Yesterday I shared the story of Megan, a young woman who found success in the male-dominated field of welding. Today, I want to tell you how she aced college and career—with a hard pass on student loans. 
In high school, Megan was already an A-student, but she needed technical competency and professional skills to truly get ahead. Welding gave her the opportunity to develop her hard skills while honing the attributes of a professional. Just after her 20th birthday, she was hired to weld at John Deere Davenport Works –in Davenport, IA – an impressive 2.2 million square foot advanced manufacturing facility.  
It's a common notion that starting a career in the trades locks you into that career forever, but Megan knows differently. Though she was thriving in her welding role, her ambitions didn't stop there. She started taking online courses for a bachelor's degree in Business Administration. Though she was working 40 to 60 hours a week and going to school full time, she was making great money as a welder and John Deere was paying for two-thirds of her degree.
Did you catch that? Not only was Megan earning a top wage, but her employer was also financing two-thirds of her college education. In just two and a half years, Megan graduated with her bachelor's degree in business. Today, she's on her way up the career ladder at John Deere.
Most people don't think of welding as a springboard to college (debt free) and a whole world of expanded career opportunities. But it was for Megan – and there are millions more just like her. It begs the question: What other unconventional paths to career success should young people know about?
For more stories like Megan's, check out my award-winning bestseller, Answering Why — available in hardcover, ebook, and audiobook on Amazon.com.
---
---
---