23 - Weld Like a Girl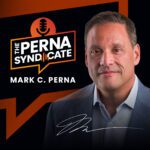 Episode: 23-weld-like-a-girl
Tease: Today on The Perna Syndicate, we're going to look at one young woman's career journey in a typically male-dominated industry: welding. Find out how she did it, coming up next.
Ep 23 show:
Hello, and welcome to The Perna Syndicate! Today, I want to tell you the story of Megan, a young woman who's proud to say she welds like a girl. 
Megan first discovered her affinity for welding in high school, where she was attracted to the work and saw it as a lifelong, marketable skill in a high-demand field. Today, she works as a welder at John Deere Davenport Works – in Davenport, IA. She says, "I can look at a Motor Grader passing by my house and proudly say, 'I built that.'"
Though welding is a skilled and lucrative career, Megan knew it was an unusual choice for a young woman. She says – "When I went to high school, society wasn't really used to women welders. I've had to overcome a lot of obstacles in this industry being a female and I've had to prove myself ten times as much as others, but that's where I get some of my pride." Pretty powerful words!
Welding may have a male-dominated history, but things are changing. To other women looking to break into this field, Megan says, "Put the work in and give it your all. Try to be as independent as you can, because at the end of the day, you are your own best friend. You're going to have to prove yourself time and time again, but times are changing."
But this is just part of Megan's story. Not only did she succeed in a male-dominated industry, but she also combined academic, technical, and professional skills to gain a competitive advantage. Listen in tomorrow to find out how she did it.
Ready for more? I post fresh content weekly at MarkCPerna.com. Check it out today.
---
---
---