232 - Belonging at Work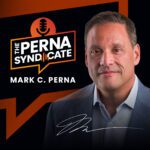 Episode: 232
Episode Title: Belonging at Work
File Name: belonging-at-work
Do you feel like you belong at work? More and more people are rating that feeling as critical to a positive workplace culture. Here's why, coming up next on The Perna Syndicate.
Ep 232 show:
Hello and welcome—you are now in The Perna Syndicate! I'm your host, Mark Perna, and today I want to ask: do you feel like you belong at work?
Belonging is a deep human desire. The lockdowns and isolation of this past year highlighted just how much we need personal connections. Recent research by Glint found that belonging jumped up four positions since last year to become the second most important driver of a great work culture.
This shouldn't come as a surprise. Work has become so much more than a paycheck, especially for younger workers. LinkedIn VP Jennifer Shappley says that employees want to work at a company that makes them feel valued and seen, where they can belong and bring their whole selves to work.
Diversity and inclusion initiatives are important, but they're not the whole solution. A sense of belonging also comes from having a meaningful purpose at work, interacting positively with your team, and experiencing a people-first culture.
If you've experienced this feeling of belonging, you know how valuable it is. If not, there are still ways you can create your own circle of belonging at work. Be yourself, go the extra mile for coworkers, and commit to giving your best effort, every time, no matter what. You will draw people to you who share these convictions and want to be part of your journey.
When people feel like they belong at work, they'll bring their best effort—and make a bigger difference for everyone they encounter.
Tomorrow on the show, new studies are pointing to a looming "turnover tsunami" where 25% of the workforce is planning to leave their jobs. We'll talk about why, and what employers can do. See you then!
---
---
---