231 - The Gap Within the Skills Gap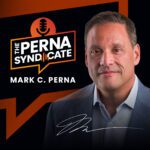 Episode: 231
Episode Title: The Gap Within the Skills Gap
File Name: the-gap-within-the-skills-gap
The skills gap is so big it has a gap of its own—the awareness gap. And it's not going away by itself. Find out more, coming up next on The Perna Syndicate.
Ep 231 show:
Welcome to a new week on The Perna Syndicate! As the economy picks up steam, there's good news and bad news. The good news is that there are about 8 million open positions in the U.S. today. The bad news? There aren't enough skilled workers to fill them. 
With all the dramatic shifts that the workforce has seen over this past year, it would be nice if the skills gap sort of just…went away on its own. But it won't. In fact, it will only grow until we come to grips with its underlying causes.
I believe the skills gap starts with another gap—the awareness gap. People aren't pursuing careers in skills-gap professions because they simply aren't aware of these opportunities. Maybe they hold preconceived notions about a particular industry, maybe they just don't know what they don't know. And it's not just young people who lack this awareness.
Parents, teachers, and other influencers in kids' lives often have no clue about the full range of careers in high-demand fields like advanced manufacturing, transportation, logistics, construction, healthcare, and many other fields. And if they don't know, how can they encourage the next generation to explore these opportunities? This is the awareness gap, and it's bigger than ever. 
But there's hope. The pandemic has shaken things up and there's never been a better time to make people aware of the many vital careers and professions in these industries. That's how we will start bridging the skills gap—and create a stronger, more resilient future for the next generation.
This is what it's all about at The Perna Syndicate—making a bigger difference for the young people in your sphere of influence. Follow me on Facebook, Twitter, and LinkedIn for more insights. See you back here tomorrow at The Perna Syndicate.
---
---
---