233 - The Looming Turnover Tsunami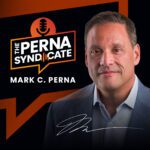 Episode: 233
Episode Title: The Looming Turnover Tsunami
File Name: the-looming-turnover-tsunami
Today, people are rethinking what they want out of their jobs—and it might just create a tsunami of turnover in the next year. Let's talk about it, next on The Perna Syndicate.
Ep 233 show:
You're now in The Perna Syndicate—welcome! The pandemic has caused a lot of people to rethink what exactly they want out of their job. We've all realized that there are new ways to work, to blend our personal and professional lives more easily. 
Now, an astounding 25% of employees are considering quitting and changing jobs in the coming year. With many employers already struggling to attract and retain their best talent, this "turnover tsunami" could literally make or break a company's fortunes.
Why are so many people planning to leave their jobs? Burnout is one reason. Though the challenges of this past year hit many people hard, they've adjusted remarkably well. But now, offices are reopening and the workforce is being asked to revamp their routine all over again. Many simply don't want to. 
This is why flexible work is getting so much press these days. LinkedIn research shows that working professionals now value flexibility over salary, benefits, and culture. Wow!
Flexibility means people can work remotely, in-person, or a mix based on individual needs. And offering flexible work is going to be critical for companies to source, hire, and retain top talent.
Whether or not the projected turnover tsunami takes place, this is a pivotal moment for employers to start creating a more flexible workplace for everyone. 
On tomorrow's show, should employers take a proactive role in helping workers skill up on the job? We'll see you then. 
---
---
---