224 - The Autonomy to Own Your Work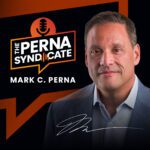 Episode: 224
Episode Title: The Autonomy to Own Your Work
Employee autonomy is more than a perk these days. It's the future of the workforce. Let's talk about it, coming up next on The Perna Syndicate.
Ep 224 show:
Hello and welcome to The Perna Syndicate! In a recent survey, ManpowerGroup asked what employees are most concerned about in a post-pandemic workplace. Health was the biggest worry, but you know what the next one was? Flexibility at work.
Employees desperately want to keep the autonomy they gained during the pandemic. This means choosing when, how, and where they get their work done. Everyone seems to appreciate the better work-life balance that flexible work can offer. 
I've always believed in giving my team the freedom to do their work in their own way. Because they believe in our mission, they are motivated to get it done. Sometimes that means late nights and early mornings, weekends and holidays—but they have the autonomy over their own work. And that's why they always get it done. 
I think employers across America are starting to see the future workforce will be increasingly self-directed. The autonomy to own your work will be more than a nice-to-have. Candidates will actively pursue roles that offer the flexibility and self-responsibility that they've come to enjoy while working from home. 
Organizations need to let go of the rules that don't make sense anymore. They must learn to evaluate output, rewarding people for what they actually contribute—not just for showing up at work. Employees want the flexibility to set their own schedules, and over this past year, they've earned it.
So what about the workers who have to perform their work in person? How can employers support their need for flexibility? We'll talk about it tomorrow on The Perna Syndicate. See you then!
---
---
---