225 - When You Can't Work From Home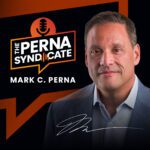 Episode: 225
Episode Title: When You Can't Work From Home
Many people love working from home—but it's not an option for everyone. How can employers give those workers the flexibility they crave? Find out more, next on The Perna Syndicate.
Ep 225 show:
Hello and welcome to The Perna Syndicate! As the pandemic's restrictions loosen, many of us will be adjusting our lives once again. Surveys show that while some workers may still want to occasionally come to the office, few now want to be there every day.
But not everyone has that choice. 60% of the American workforce has jobs that have to be performed in person. So how can employers support their need for flexibility? There are ways to make things easier.
Wherever possible, employers should flex the hours to minimize the commute. Maybe there's a better timeframe for the workday than the usual 9–5. Giving people freedom to set the times they come in can really ease the demands of in-person work.
This may also mean flexing the days to enable people to work in a way that meshes with life. For instance, many parents feel disadvantaged by having to choose between dropping their kids off at school or having to show up for an 8:30am conference call. Organizations can empower these employees to own their own schedule, so they can juggle life and work more easily.
When we free people from a rigid schedule, we also unleash their best effort. Flexible work is going to look different for every organization, but in the end it all comes down to being sensitive to the needs of the workforce.
Thanks for being a part of The Perna Syndicate this week. Follow me on Facebook, Twitter, and LinkedIn for more insights into the changing world of work. We'll see you back here next week!
---
---
---