196 - The Middle of Your Success Story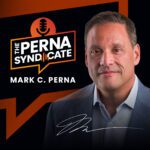 Episode: 196
Episode Title: The Middle of Your Success Story
What goes into a good success story? Most focus on the beginning and the end, but I think the middle is the critical chapter. Here's why, coming up next on the Syndicate.
Ep 196 show:
Welcome to The Perna Syndicate! I'm your host, Mark Perna, and I want to kick off the week with a question: what goes into a good success story?
Most start with a person who has a dream, a goal they want to achieve. There's a major challenge that could prevent them from making that dream come true. They plan, they work, they struggle, and then—the payoff. They succeed, and now their life is a story of success. 
I love a good success story—who doesn't? Seeing someone overcome their obstacles reminds me that I can do the same, in any area of my life. The only problem is, most of my life is lived in the middle of the story. 
The middle chapters are where you're not sure that it's actually going to BE a success story. When you're in the middle, you just don't know yet. And this is where it can be easy to get stuck. 
Getting stuck in the middle is another way to describe static purpose mode that I talked about a few weeks ago. Static purpose is when you're just standing still, not taking steps toward any goals. You're reactive, not proactive. And the middle of the story is where static purpose can take over, for many people. 
If that's you, plodding toward your goal but not quite there yet, that's okay. Just don't let yourself become static. What you do in the middle determines what kind of story you're writing with your life.
This week, I want to focus on four ways to make your story a success story. We'll see you back here tomorrow for more on the Syndicate. 
---
---
---