195 - Walking Away With Confidence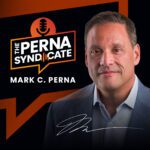 Episode: 195
Episode Title: Walking Away With Confidence
The worst mistake you can make in salary negotiation is not negotiating in the first place. And the next is not knowing when to walk away. Let's talk about it, coming up next on the Syndicate.
Ep 195 show:
You're now in The Perna Syndicate—welcome! We've been talking about salary negotiation all week. If you find yourself still not feeling confident about it, just remember: the worst-case scenario in negotiating for a higher salary is not having the confidence to ask in the first place. 
Career coach Kyle Elliott told me that he's worked with more than a thousand jobseekers, and has never seen someone have their offer withdrawn because they asked for a higher salary. 
Basically, you have nothing to lose by opening the salary conversation. In fact, Elliott says he had one client who received a higher offer after he helped educate the company on what the market was paying for similar positions.
It's also worth noting that companies often make offers knowing that candidates are likely to counter the original offer. There's usually some wiggle room there, so take advantage of it. 
But if negotiation doesn't produce the result you wanted, you need to know when to walk away. Enter the salary conversation with a bottom-line number and be prepared to leave the offer on the table if the company won't meet it.
Remember, your work matters. You can negotiate with confidence when you believe in the value of your contribution and the quality of what you do. 
Thanks for being part of the Syndicate this week! For more content, check out MarkCPerna.com where I post blogs, episodes, and more. We'll see you back here next week!
---
---
---