175 - 3 Reasons Tech Careers Are Built For Gen-Z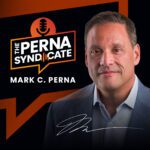 Episode: 175
Episode Title: 3 Reasons Tech Careers Are Built For Gen-Z
File Name: 3-reasons-tech-careers-are-built-for-gen-z
Why are tech careers especially attractive for the next generation of workers? Here are three big reasons, coming up next on the Syndicate.
Ep 175 show:
Hello and happy Friday—you are now in The Perna Syndicate! A tech career offers incredible opportunities for younger workers, particularly members of Gen-Z who have grown up with technology integrated in their daily lives. But, they might need a little encouragement to make it their career direction. 
What can make a career in tech attractive to Gen-Z? Well, first off these positions are known for their flexibility. Work from anywhere, work at any time—this is a huge benefit for young people who are used to blending, rather than balancing, life and work. 
And of course, training for a tech career is nowhere near as expensive as completing four years at a university. Many coding bootcamps offer payment plans and other options to make the training accessible for everyone who wants to learn. It's a well-paying job that doesn't burden you with heavy student loans. What's not to love?
Contrary to popular opinion, tech is also highly collaborative. Tony Phillips, CEO of the bootcamp Galvanize, says that many people think coders live in their own little bubble, staring at a screen for hours, but there's actually significant teamwork involved. Working together to solve complex problems is a great way for young people to develop the professional skills to take their career even further. 
So flexibility, cost savings, and collaboration are the three big reasons that tech careers are built for Gen-Z. If you're having career conversations with young people, bring tech careers into the mix. It might just be their golden opportunity. 
For more insights on the world of work, follow me on Facebook, Twitter, LinkedIn, and Forbes.com, where I share insights and ideas to empower your career journey. Thanks for listening this week, and have a great weekend!
---
---
---