174 - Is Tech the Career For You?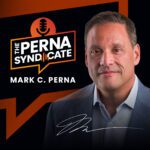 Episode: 174
Episode Title: Is Tech the Career For You?
File Name: is-tech-the-career-for-you
Though tech careers are growing faster than ever, many people think they're hard and expensive to train for. But are they really? Find out, coming up next on the Syndicate.
Ep 174 show:
Hello and welcome—you are now in The Perna Syndicate! This year, Glassdoor reported that 22 of the 50 best jobs in America are technology related. The pandemic has accelerated the growth of tech careers, which were already growing fast. 
And a job in tech has never looked better. Not only do these jobs typically pay better than average, they also provide workers with added flexibility with their schedules and generous benefit packages. 
And yet, most people assume they just aren't qualified to apply for jobs like these. According to a recent survey, more than 50% of respondents believed that tech jobs are either too tough to land or require significant schooling or skills they just don't have. 
But in actuality, it's never been easier to acquire the skills to land a job in tech. According to Anthony Hughes, CEO of the coding bootcamp Tech Elevator, many coders don't even have a college degree, let alone one in computer science.
For many entry-level positions, an industry certification is all you need to break into tech. Taking a short coding course online is a great way to see if you enjoy the work, and there are many free options out there.
No matter what educational background a person has, a job in tech could be a viable and lucrative career choice.
Tomorrow on the show, we'll talk about how you can encourage the young people in your life to take a look at a career in tech. Thanks for listening…we'll see you then!
---
---
---