176 - The 3-Fold Skills Gap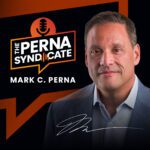 Episode: 176
Episode Title: The 3-Fold Skills Gap
The skills gap in post-pandemic America is threefold—and only by addressing all three of these critical areas can we bridge that divide. Here's what we're up against, coming up next on the Syndicate.
Ep 176 show:
Hello and welcome to a new week on The Perna Syndicate! Now that our economy is hitting the reset button, so is the skills gap. And today, the divide between the skills employers are looking for, and the skills that workers actually have, is expanding faster than ever.
Despite the record unemployment rates of the last 12 months, employers are still struggling to hire qualified workers. The skills gap is affecting all industries to some extent, but certain fields like manufacturing, construction, healthcare, and aviation are especially struggling.
The post-pandemic skills gap is threefold. There's a deeper gap in academic knowledge, thanks to "the COVID slide." Workers' technical competencies, the hard skills required to perform the job, have also suffered. And thirdly, there's a void in the soft, or professional skills as I call them, that help workers thrive in the workplace.
Though our educational system has pivoted to serve students during a hectic year, there's still a lot of lost ground to make up. Technical competency has also declined, especially where the in-person instruction so vital to career training hasn't been possible. And the importance of professional skills like leadership, communication, stress management, and more has been starkly spotlighted with the overnight shift to a remote work environment.
The pandemic has made the skills gap bigger—or maybe, it just revealed what we couldn't see before.
This week, we'll talk about how educators and employers can start building these skills into the experience of today's young people. We'll see you back here tomorrow at the Syndicate!
---
---
---