171 - Younger Workers Getting Smarter About Retirement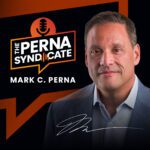 Episode: 171
Episode Title: Younger Workers Getting Smart About Retirement
File Name: younger-workers-getting-smart-about-retirement
Though their retirement is a long way off, younger workers can show the rest of us a thing or two about planning ahead. Find out what, coming up next on the Syndicate.
Ep 171 show:
Hello and welcome to The Perna Syndicate! Managing money is always a touchy subject, and this is especially true for younger workers who may harbor regrets about college debt and other financial challenges. But while they've made their share of money mistakes, they're starting to play smarter when it comes to planning for, and protecting, their retirement.
New data from Personal Capital found that, despite the upheaval and uncertainty created by the pandemic, workers in their 20s are doing surprisingly well in saving for their future—even a future as far-off as retirement.
Only 29% of people in their 20s say they don't have a financial plan for their retirement savings—that's less than any other generation. In addition to being the age group most likely to take advantage of maximum matching 401(k) contributions from their employer, professionals in their 20s are also the second leading demographic for contributing to their 401(k) every paycheck, trailing just after those in their 30s.
Despite the financial hardships experienced by so many during COVID, young people were, overall, remarkably disciplined with their retirement savings. They're the second most likely age group to have NOT dipped into their retirement savings in the early months of the pandemic, only behind those in their 40s. 
Coming of age in the midst of an economic downturn is tough, but it seems that younger professionals are taking these lessons to heart. 
Tomorrow, we'll chat about what this financial awareness means for employers and how they can attract and retain these retirement-savvy younger workers. We'll see you then!
---
---
---