161 - The Power of Staying Uncomfortable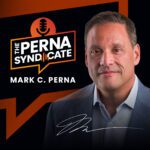 Episode: 161
Episode Title: The Power of Staying Uncomfortable
We all have our comfort zone, the place where we feel safe. But is your comfort zone holding you back? Let's talk about it, coming up next on The Perna Syndicate.
Ep 161 show:
Hello and welcome to a new week on The Perna Syndicate! I'm your host, Mark Perna, and today I want to know: what's your comfort zone—that place where you feel safe, unchallenged, and secure? 
Last year was the year that shook all of us out of our comfort zones…personally and professionally. We had to deal with difficulties and fears we never even imagined, and it's been tough. 
Now that we're a year out from the start of the pandemic, we can all look back on the challenges we overcame—and feel proud. We've created a new and successful normal. We've served our students and employees, we've made a positive difference. But now we face a greater challenge…the temptation to get comfortable. 
We all need a comfort zone, but it should never be the place we stay. To become the best that we can be, to push the envelope and make a bigger difference, we have to step out of our comfort zone…and keep moving away from it. 
To grow, I must not just venture out of my comfort zone occasionally. I need to stay uncomfortable, in a constant state of being challenged, rising to the occasion, and then moving forward to meet bigger challenges. 
So as you start your work week, don't play it safe. If you're willing to get out of your comfort zone—and stay out of it—you will find yourself achieving more than you ever thought possible. 
Thanks for listening today! Follow me on Facebook, Twitter, and LinkedIn for more motivation and inspiration to power your week. We'll see you back here tomorrow at the Syndicate!
---
---
---