160 - What Happens if New Employees Don't Connect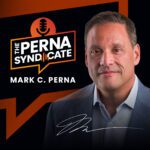 Episode: 160
Episode Title: What Happens if New Employees Don't Connect
If new employees never fully connect with the company culture, performance and retention can plummet. Stay tuned for more, coming up next on the Syndicate.
Ep 160 show:
Welcome to The Perna Syndicate! As we've been discussing all week, it's all too easy to be anonymous in a remote workforce. A new study shows that employees hired remotely in 2020 are struggling to connect meaningfully with their workplace culture.
This disconnect will have serious consequences long term. Employees onboarded remotely during the pandemic may never fully connect with the company's core values. And by the time it's safe to return to the office, the new employee is no longer new—and there may be an assumption that they're already embedded in the fabric of the organization, when in fact they may not be.
Unfortunately, low levels of employee engagement are correlated with poor performance and high turnover rates. Of course, in an uncertain economy people may not just quit their jobs outright, but staying does not guarantee they will put forth their best effort or go the extra miles for customers.
Managers can help by telling stories about the company and the team's achievements. Peers can help by simply reaching out and making a personal connection with new team members. And new hires themselves can make it a point to ask good questions and listen well.
All of these things working together will help create that necessary connection for new employees—and help ensure the long-term success of both the team and the organization as a whole.
Do you have a comment or question on this episode? I'd love to hear from you. Get in touch with me at MarkCPerna.com—and thanks for listening in this week. We'll see you back here next week on The Perna Syndicate!
---
---
---