157 - How Stories Can Help New Hires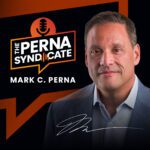 Episode: 157
Episode Title: How Stories Can Help New Hires
Employees hired and onboarded remotely in 2020 are having a harder time connecting with the organization's mission. How can managers help? Find out, coming up next.
Ep 157 show:
Hello and welcome to The Perna Syndicate! Yesterday, we talked about a new analysis that highlights the often-unseen struggles of employees hired remotely during the pandemic. These employees are identifying less and less with their company's values—partly because a virtual onboarding experience is just not helping them make that connection. 
So what can managers do about this? 
It's clearly necessary to make the organization's values more visible, beyond just the recruiting and onboarding process. Your mission needs to be woven into the culture of your organization—especially in a virtual workplace. And that's where storytelling can come in. 
Storytelling is a powerful and memorable way to share what is important to the organization and its stakeholders. Stories about successes and yes, even failures at work can help all employees, and especially newcomers, to see the company's vision in action. 
These stories can also celebrate the efforts of employees who go above and beyond to deliver value for customers. Sharing positive examples will energize those who are being recognized and show new employees what the organization's values look like in action.
As a manager, you play a key role in your employees' connection to the company. So start using the power of storytelling to inspire your team.
Tomorrow, how can coworkers support new hires who joined the organization during the lockdowns? It can be harder in a virtual world, but it's still possible. Tune in tomorrow and we'll talk about it. See you then!
---
---
---