149 - Three Ways to Say Thanks at Work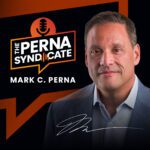 Episode: 149
Episode Title: Three Ways to Say Thanks at Work
How can managers let their employees know that they're appreciated? Here are three simple ways, coming up next on The Perna Syndicate.
Ep 149 show:
Hello and welcome! This week, we're talking about the importance of recognizing and appreciating employees—especially after a year like 2020 when we all had to make massive changes in how we work. Today, I want to share three practical ways that managers can let their team know they're appreciated
First, just SAY thank you. This one's not hard! Over 60% of respondents in the recent Workhuman study said a simple expression of gratitude would go a long way in letting them know that their work has been noticed and appreciated. This can be verbal or, for even more impact, handwritten in a quick note of thanks.
Another way to appreciate employees is to celebrate personal and professional moments. Did your team recently complete a major project? Has anyone reached an employment milestone? What about birthdays and other important personal moments? These are all opportunities to celebrate your employees and let them know they are valued far beyond just their capacity to get the work done.
A third way to recognize employees is with a monetary bonus. According to the survey, receiving a bonus was the top way that employees said they would feel appreciated. Employees who receive a monetary thank-you will know it's more than lip service.
Tomorrow, March 5, is Employee Appreciation Day, and it's a great time to make the extra effort to recognize your team. But don't just limit your appreciation to one day. Express your gratitude throughout the year—and watch your workplace thrive.
Tomorrow, we'll wrap up the week reflecting on how far the workforce has come over the past twelve months—with a special thank-you to my own team. We'll see you then!
---
---
---