147 - Should Employers Say Thank You?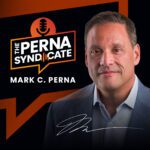 Episode: 147
Episode Title: Should Employers Say Thank You?
File Name: should-employers-say-thank-you
After a year like 2020, employees need to know their work is appreciated. But are employers saying thank you? Find out, coming up next.
Ep 147 show:
Hello, and welcome—you are now in The Perna Syndicate! To be recognized for one's hard work is a universal human desire. But a new study by Workhuman shows that all too often, employers are missing the opportunity to say thank you to their employees.
Over half of respondents wished their employers would offer more recognition for what they do. Thirty-one percent reported that recognition has a direct impact on their motivation to succeed. Nearly one in four report that recognition from either a peer or manager enhances their productivity.
According to research published in the Journal of Personality and Social Psychology, workers who were thanked regularly were more likely to put in discretionary effort, extend a warm welcome to new employees, and pick up slack for coworkers.
Despite this, many employers are failing to recognize employees on an ongoing basis. More than half said their companies don't celebrate Employee Appreciation Day. More than 25% rarely or never deploy feedback surveys. And, women reported being thanked less often at work than their male counterparts.
On the first Friday every March, companies celebrate an unofficial holiday: Employee Appreciation Day. This year, it falls on March 5. And there's no better time to up your game in the area of employee recognition.
This week, we'll talk about the barriers that might be preventing us from recognizing employees, along with three ways to start saying thank you. We'll see you back here tomorrow at the Syndicate!
---
---
---