146 - Health Is a Journey, Not a Destination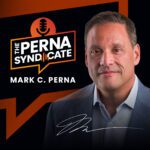 Episode: 146
Episode Title: Health Is a Journey, Not a Destination
Health and wellness is a journey, not a destination. That's what I'm learning lately on my own road towards a healthier life. Find out more, coming up next.
Ep 146 show:
Hello, and welcome to a new week on The Perna Syndicate! If you know me and my story, you know that at one time in my life I weighed over 400 pounds. Life was just difficult on multiple levels, carrying that kind of weight.
Since that time I have made major changes, lost almost half my body weight, but I never quite reached my ultimate goals. There were lots of reasons, including my hectic schedule, but deep down it was really because my mindset wasn't fully there.
Since last November, I've been on a journey toward better health and wellness. And I've realized it's not just about the number on the scale.
Even while I'm working hard to shed the last few pounds, adjusting my diet and working out every day, I am realizing that my journey won't end when I reach my target weight. Health and wellness is not just a place where I will arrive someday. It is here and now, making the most of what I've been given and being a good steward of my body—and also my mind.
It feels fitting to reflect on this today, which happens to be my birthday. I've never embraced another year with more optimism for the future. The older I get, the more I realize that every day is a gift. I never want to become stagnant or complacent about how far I've come in my health journey. And unlike my younger self, I don't ever want to arrive.
I want to live the rest of my life to the fullest, always striving to enjoy the journey. Because that's what health and wellness, both physical and mental, are all about.
If The Perna Syndicate has inspired you, let me know with a review! On Amazon, just search "The perna syndicate" and leave a customer review, just like you would for anything else on Amazon. And as always, thanks for being part of the Syndicate!
---
---
---