135 - How Mentoring Develops Social Capital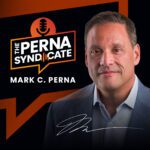 Episode: 135
Episode Title: How Mentoring Develops Social Capital
Social capital can make all the difference for a young person just entering the world of work. Here's how mentoring can help develop it, coming up next.  
Ep 135 show:
Happy Friday from The Perna Syndicate! This week, we've been covering mentorship and what it can do for both individuals and companies. Today, I want to talk about social capital, which is the credibility, the networking, and the connections that help individuals advance their careers in a competitive job market. 
In my recent Forbes.com article on mentoring, I shared a quick story about one young woman who gained social capital through her mentorship. Shannon Brooks was mentored by Matt Lustig, Chairman of Investment Banking at Lazard, through the nonprofit First Workings. What was originally a traditional internship evolved into a one-on-one mentorship with a focus on college and career advice. The connections and networking opportunities were a bonus—but a huge one.
Brooks learned about the world of finance and investment—while Lustig discovered her exceptional personality, drive and talent. When Brooks decided that she wanted to pursue a business degree, Lustig added an enthusiastic endorsement to her college application. She was accepted at her first-choice college, thanks in part to the social capital gained through her mentorship. 
Helping your mentee develop social capital could be one of the most critical things you do as a mentor. A simple introduction, a short recommendation, your name on their resume—it all adds up. Your credibility as a professional in your field can give a young person a much-needed leg-up in the working world. 
I love mentorship because it's such a powerful way to make a positive difference. What do you love about it? Send me your thoughts at MarkCPerna.com; I always appreciate hearing from you. That's it for this week—we'll see you back here next week on The Perna Syndicate.
---
---
---