134 - Mentoring and Racial Equity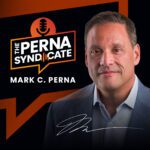 Episode: 134
Episode Title: Mentoring and Racial Equity
The racial challenges of 2020 have highlighted the need for thoughtful mentorship of Black and Brown talent in the workforce. Let's talk about it—coming up next. 
Ep 134 show:
Hi, I'm Mark Perna and this is The Perna Syndicate! All week we've been talking about mentorship: what it is, how it works in a virtual world, and how mentees often have a lot to teach their mentors, too. Now, let's dive into the question of mentorship and racial equity. 
2020 brought many social issues to the forefront, and it would be remiss if we did not apply these lessons to the mentoring relationship. Some mentoring programs have boosted minority representation at the management level from 9% to 24%, demonstrating just how effective it is to prioritize Black and Brown mentees.
For my recent article at Forbes.com on mentorship, I connected with Dr. Art Langer, the founder of the nonprofit Workforce Opportunity Services. He passionately believes that diverse talent is a strong solution to the issue of persistent vacancies within large corporations. In the WOS framework, mentors train, manage, and coach their diverse mentees through the entire employment process. 
They also offer additional support in areas like personal development and financial challenges. This past year, they've been more mindful than ever of their role in providing an equitable experience for every mentee. 
According to Dr. Langer, mentorship is vital to the fabric of a diverse workforce. It's not just about hiring minority talent, but also retaining these employees who bring a fresh perspective and contribution to the company. A robust mentorship program that values Black and Brown talent will empower these young people to build successful careers—and help companies create a more equitable and skilled workforce. 
Tomorrow, we'll wrap up the week talking about the immense boost that social capital can give to a young person's education and career—and how mentoring helps them build it. We'll see you then! 
---
---
---