132 - How Virtual Mentoring Worked Out Last Year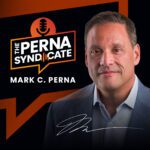 Episode: 132
Episode Title: How Virtual Mentoring Worked Out Last Year
Mentoring programs in the workplace are immensely valuable, but do they have the same impact virtually? This past year, companies were forced to try the experiment. Here's how it went, coming up next. 
Ep 132 show:
Hello—you are now in The Perna Syndicate! This week, we're talking about the value of mentoring in a skilled workforce. But what does mentorship look like in our pandemified world?
Like everything else, mentoring relationships went virtual this past year. A recent survey of nearly 700 CEOs found that 78% believe remote collaboration is here to stay. That means that some aspects of virtual mentorships may be forever ingrained in mentoring programs moving forward. And that's not a bad thing.
Virtual mentorships offer some things that an in-person experience can't. Many mentorship providers were able to expand their program offerings because of the flexibility of video conferencing. Corporate partners found it easier to invest their time, and students were already comfortable with the virtual learning environment. This past year, many mentees had the opportunity to develop professional rapport with C-Suite executives on a one-on-one basis through Zoom.
Of course, in-person mentorships also have their own benefits, and I think we're all eager for the day when it's safe to get back together in person. But now that companies and individuals have experienced the benefits of virtual mentoring relationships, we can't forget about the benefits of a virtual experience. 
Forward-thinking mentorship programs will embrace a hybrid model, using the best of both worlds to provide an exceptional experience for both mentor and mentee. The future of the workforce is going to be a mix of in person and virtual—and mentoring is no exception. 
Tomorrow, we'll talk about a fun aspect of mentoring—the "reverse mentorship." Find out what this is and if you're already doing it, tomorrow on The Perna Syndicate. We'll see you then! 
---
---
---