131 - Why Mentoring Matters To You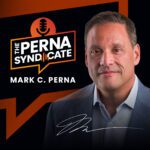 Episode: 131
Episode Title: Why Mentoring Matters To You
Workplace mentoring is invaluable to the person being mentored, but did you know there are immense benefits for the mentor, too? Stay tuned to find out what they are, coming up next.
Ep 131 show:
Hello and welcome to The Perna Syndicate this week! Today I want to talk about a powerful workplace dynamic: mentoring. During National Mentoring Month in January, workplace mentoring was top-of-mind for many companies looking to start the year strong. Here's why it matters.
With much of the workforce working remotely for the foreseeable future, a robust mentorship program is more than a nice-to-have. 70% of Fortune 500 companies offer formal mentoring programs, and statistics show that mentees are promoted five times more often than non-mentored employees. What's more, mentors themselves are six times more likely to receive a promotion than workers who are not mentoring anyone.
It's clear that investing in an efficient and well-functioning program is a strong business decision with reciprocal benefits. It's good for the company, it's great for the mentee, and it's also of tremendous value to the mentor.
Maybe you can think of someone who mentored you. Maybe you're mentoring someone today, who will someday look back at the enormous difference you made in their career—all because you took the time to be that voice in their life.
I believe that we should all be both mentors and mentees, simultaneously. We should be actively learning from someone while, at the same time, passing our knowledge on to someone else. So I'll leave you with this question: Who are you mentoring, and who is mentoring you?
Whether you're a veteran mentor or are just starting a mentoring relationship, stay tuned this week for the tips that can enhance the mentoring experience for everyone involved. We'll see you back here at the Syndicate tomorrow!
---
---
---