129 - Relationship Management in 2021 and Beyond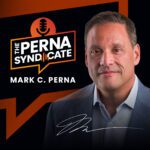 Episode: 129
Episode Title: Relationship Management in 2021 and Beyond
Relationship Management—what does that mean? For remote work in 2021, it's a critical soft skill, and it's only going to become more important. Find out why, coming up next.
Ep 129 show:
Welcome to today's episode of The Perna Syndicate! All week, we're covering the most critical soft skills for remote workers in 2021. One of the most universal of these skills is called Relationship Management. So what does that entail?
As a soft skill, Relationship Management means the ability "to use awareness of one's own emotions and those of others to navigate interactions successfully." 
I think we can all attest to lots of emotions at work this past year—the good, the bad, and the ugly. So how did we do in being aware of those emotions, both in ourselves and others, and using that knowledge to elevate our interactions?
Relationships require investment, and that's true whether in your personal or professional life. Educators in particular have to manage many different relationships: with students, with parents, with coworkers, and with the community. 
It's important to note that this soft skill isn't just about being aware of how other people are feeling. It's also acting wisely on that knowledge to make each interaction as mutually beneficial and rewarding as possible. 
In other words, it's not enough to just know. We have to do. We have to use what we know to make a habit of successful interactions, at work and, really, in every relationship in life. 
In the era of remote work, the necessity for Relationship Management has reached a whole new level. Let's commit now to better interactions in 2021—and beyond.
Tomorrow, we'll cap the week with some practical ways you can start enhancing your soft skills in our newly remote world. Stay tuned and we'll see you then!
---
---
---