128 - How's Your Social Awareness?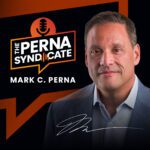 Episode: 128
Episode Title: How's Your Social Awareness?
Social Awareness is a soft skill that has come to the forefront at work. So how are you doing in this area? Let's talk about it today—coming up next.
Ep 128 show:
Hello, and welcome to The Perna Syndicate! I'm your host, Mark Perna, and as we continue our look at the most important soft skills for remote work, today's focus is on the soft skill known as Social Awareness.
This skill is defined as the ability "to relate and respond to the feelings, needs, and concerns of individuals or broader societal groups." Wow—has there ever been a more relevant skill for the world today?
Everyone can benefit from building Social Awareness, but especially professionals in remote-work fields like Medical & Health, Sales, Finance, and of course, Education, among others.
Social Awareness goes beyond simple empathy, to taking action on that insight, understanding, and connection with others who may be different from us in some way. It's relating to others, and then responding based on that knowledge and respect.
The workplace is diversifying, not least because remote work has removed geographical barriers to employment. We are now taking part in a multigenerational, multi-ethnic, global workforce. More than ever, we need Social Awareness to function effectively.
How are you doing in relating and responding to other people's feelings, needs, and concerns? That's your starting point to build meaningful Social Awareness in 2021.
Tune in tomorrow for a look at one more powerful soft skill for remote work: Relationship Management. This skill is critical for companies and clients, educators and parents, and anyone else who connects with people every day at work. We'll see you then!
---
---
---