120 - Connecting the Light with Purposeful Education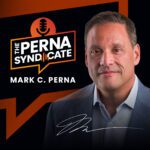 Episode: 120
Episode Title: Connecting the Light with Purposeful Education
As a motivational strategy, the light at the end of the tunnel is deeply connected to education with purpose. Find out why this will change education in America…coming up next!
Ep 120 show:
Hello, and welcome to The Perna Syndicate! As we've talked about the motivation of light at the end of the tunnel this week, I can't help but connect it to education with purpose. Education with purpose simply states that young people need to be exposed to career opportunities sooner in their educational journey, so they can then pursue that education with a clear purpose in mind.
College isn't the time to discover your future career—that work should be done long before, so that young people can then attend college, or any other postsecondary pathway, with a solid plan and goal in mind.
The idea of education with purpose has had such an impact on the organizations and districts I consult with nationwide, that we've decided to create a full 2-day conference centering on it. On October 12th and 13th of this year, we'll be gathering in Cleveland, Ohio to help organizations focus, plan, and take action so they can deliver education with purpose to every student.
Purposeful, goal-driven education will help young people make the most of what they're learning, because it connects learning to their personal goals—their light at the end of the tunnel, if you will. I believe that when we help students see the reason WHY they're learning what they're learning, WHY their education today matters for tomorrow, we will transform not just their experience of school, but the entire educational system in America.
It's time to shift the paradigm in education and workforce development, toward helping young people see their light—and the right tunnel to lead them to it. That's education with purpose.
Thanks for being a part of The Perna Syndicate this week. For more episodes, visit MarkCPerna.com. We'll see you next week!
---
---
---