121 - The COVID Learning Slide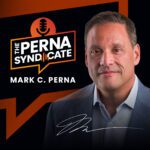 Episode: 121
Episode Title: The COVID Learning Slide
The "summer slide" is hard enough, but now educators have a whole new challenge in the learning students have lost during the pandemic. Find out more about the COVID learning slide, coming up next.
Ep 121 show:
Hello, and welcome—you are now in The Perna Syndicate! Educators have long battled the "summer slide," which refers to the loss of learning that takes place during the eight-week summer break. Now in our pandemified world, there's a whole new learning challenge to overcome: the COVID slide. 
A recent McKinsey study found that students started school last fall roughly three months behind in math. For students of color, this number increases to as much as five months behind—almost as if no learning whatsoever had taken place once the pandemic struck. Reading levels are slightly better, with students averaging just a month and a half behind. But it's not a rosy picture, and it may get worse before it gets better. 
The study speculates that the cumulative learning loss could be substantial, especially in math—with students averaging five to nine months of learning loss by the end of this school year. Again, this is worse for students of color, who could end up six to 12 months behind. Unfortunately, those who started with more obstacles to academic achievement are likely to experience the greatest learning loss. 
During this whole pandemic, educators have been amazing. They met the disruption with incredible innovation, commitment, and grit, and it's thanks to them that kids aren't further behind. But the American educational system was simply not designed for extended periods of remote learning. 
So what can we do to alleviate these setbacks? This week, I want to offer four big-picture approaches that can help us, help students. 
Tune in tomorrow and let's talk more about how to address the COVID slide. We'll see you then!
---
---
---