812-Demystifying Neurodiversity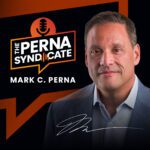 Episode: 812
Episode Title: Demystifying Neurodiversity 
As a father to a neurodiverse individual, I understand the stigma that can come with this diagnosis—and why it's flat-out wrong. Let's talk about it, next on The Perna Syndicate.
Ep 812 show:
Welcome back to The Perna Syndicate—I'm glad you are here! Our topic this week is neurodiversity at school and work, but what exactly does that term mean? As neurodiversity advocate David Flink explains, neurodiverse people simply learn differently. 
He says, quote, "what sets [neurodiverse people] apart is that they may access or process information in an atypical way. So these can be people with dyslexia, ADHD, or other issues that lead to challenges in learning." End quote.
Flink, who is himself neurodiverse, was a student at Brown University when he became frustrated with the lack of support for young people working to overcome their learning challenges. That's why he started his organization, Eye to Eye.
Today, Eye to Eye connects middle school kids with students who are in high school or college so that younger students can learn from older ones and see that there are others who also learn differently and still succeed.
With programs like these, we are moving in the right direction to destigmatize neurodiverse individuals. As a result, they will be more likely to ask for accommodations when needed in their schools and workplaces.
The ultimate goal, says Flink, is to give the mentees and their mentors the confidence they need to navigate a system not designed for them. To do that, they will need to advocate for the community-wide changes to help them achieve at a higher level.
That's what we will be talking about tomorrow on The Perna Syndicate. Take care and I'll see you next time for the conversation!
---
---
---