785-Evolution of Higher Ed Funding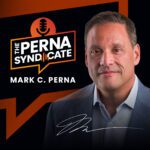 Episode: 785
Episode Title: Evolution of Higher Ed Funding
We need to redefine what "higher education" means—and help everyone access it. Let's talk about how, next on The Perna Syndicate. 
Ep 785 show:
It's Friday on The Perna Syndicate, and all week we've been talking about higher education and federal aid. As I say in speeches: college for all only equals success for some. With the cost of college rising, federal student aid is helping students fund different options beyond just the typical college degree. 
Financial aid for all postsecondary learning, not just college, means more "non-traditional" students are pursuing more "non-traditional" training opportunities. For example, over the last decade, the number of registered apprentices rose by 64%. Why? Because that type of training gives them a powerful competitive advantage. 
I think we can forget how much the trades affect our lives. If you've ever had an appliance break down, a pipe spring a leak, or trouble with your car, you can relate to this. In those stressful moments, we rely on people who chose a career in the trades to come in and save the day. And save the day they do. 
In a changing world, young people can be hopeful about their prospects. They have so many options to find the path to the career and lifestyle they dream of. Whether that's pursuing higher education in the form of a 4-year degree OR a skills-based program—or both—we can recognize that all careers have value. 
And there is help available for all students to pursue higher education of all kinds—and make their goals a reality.
Thank you for tuning in to The Perna Syndicate this week. It's been a great conversation on what the future of higher education looks like, and why it's so important. I'll see you back here next week on the show. Until then, take care!
---
---
---