784-Higher Ed: More Than You Think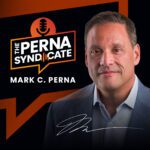 Episode: 784
Episode Title: Higher Ed: More Than You Think
Many people think that "higher education" refers only to college, but today, it's so much more than that. Let's talk about it, next on The Perna Syndicate.
Ep 784 show:
Welcome back to The Perna Syndicate—let's get going! In this new age where technology is affecting virtually every job in our society, many people still have outdated notions of what blue-collar careers are actually like.
It stems from a narrow definition of "school." But all knowledge is valuable. It helps to consider the positive difference in our lives that the trades and skills-based programs make. Anyone may experience a car breakdown, a medical setback, or a plumbing crisis. When that happens, we will count on the highly skilled, experienced people who work in these fields to help us through those situations.
Believe it or not, careers in the trades offer attractive, viable, living-wage work that is much in demand. And many high-quality career and technical education programs offer a straightforward path to help young people advance in these desirable careers.
No matter the career path, the data is clear that people with higher education typically earn more and have lower unemployment rates than people without it. We just have to redefine what higher education really means. Today, it's any postsecondary training or learning that equips young people to thrive in the world of work.
That includes college—along with a host of additional training pathways. All of them can be viable when they're the right choice for the individual, based on their unique interests, talents, and abilities.
I'm glad that you tuned in today and I hope to have you back tomorrow as we wrap up how federal student aid is changing the landscape in higher education. See you next time on The Perna Syndicate!
---
---
---