781-Funding Higher Education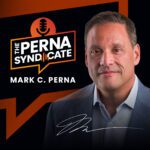 Episode: 781
Episode Title: Funding Higher Education
Many families aren't aware of federal aid programs that can help pay for career training, and that doesn't just mean college. Let's talk about it, next on The Perna Syndicate.
Ep 781 show:
Welcome back to a new week on The Perna Syndicate! I'm your host Mark Perna. One of the key messages that I share with audiences when I'm on the road is that college for all only equals success for some. What I mean by that is that we've reached a point where pursuing a college education will not be the best path for every young person.
The cost of a college education continues to grow, to the extent that most college graduates can expect to have tens of thousands of dollars in student loan debt to pay off. At the same time, employers everywhere continue to scramble to find recruits with the skills they need to fill open positions.
What many people overlook is how the options for financial aid have begun to evolve to meet young people where they are. College is no longer the only funded option, and there is aid to help young people attain the education and skills to pursue a career of their choosing.
Aside from more traditional academic programs, Federal Student Aid also supports certificate studies, skills training, and other trade and career programs.
As programs like these shift to include different forms of education, more doors will be opened to those who do not see college as a step in their professional journey. This means employers will have more qualified prospects, students will have less debt, and everyone will benefit.
This shift in financial aid is changing the educational landscape as well, in ways different than you might expect. I will see you back here tomorrow for that conversation and more on The Perna Syndicate.
---
---
---