770-Success on Your Own Terms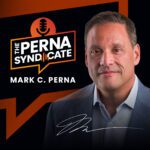 Episode: 770
Episode Title: Success on Your Own Terms
AI is going to create massive changes in our lives and careers. What does this mean for young people specifically? Let's talk about it, next on The Perna Syndicate.
Ep 770 show:
It's Friday on The Perna Syndicate, and I'm glad you're joining us to wrap up your week! Young people today have a truly unique opportunity to embrace the current shift in technology. The development of AI especially offers a great opportunity for Gen Z to get their foot in the door for brand-new careers.
Much as it did when the Internet came around, the workforce is about to rapidly change. People are starting to realize that a 4-year degree isn't always needed to achieve great things in your life.
The path to success is different for everyone, and it really depends on the lifestyle you want to live. By starting there and working backward, you can map a clear path to job and life satisfaction. As we said yesterday, sometimes the road less traveled will lead to success on your own terms.
To help young people discover their own educational path, career choice, and lifestyle aspirations, it's important to get them thinking and talking about what they want their future to look like—regardless of what the economy looks like today.
At the same time, we also must teach them that there are many on-ramps to achieving a successful life. With so many new ways for Gen Z to advance their knowledge, college is no longer the only way to win.
As technology continues to change everything we know about work, don't forget that success is how you define it. Creating the life you want to live to meet the future head-on—that's success.
Thank you so much for tuning in this week! I hope to catch you back here on Monday for more on The Perna Syndicate. Until then, take care!
---
---
---