769-The Road Less Traveled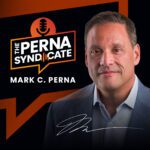 Episode: 769
Episode Title: The Road Less Traveled
Are you working towards the future you want, or just blindly following what our society sees as the 'rules to succeed'? Let's talk about it, next on The Perna Syndicate.
Ep 769 show:
Hello and welcome to a new day on The Perna Syndicate! As we talk about the shifting landscape of education and employment, I want to be clear that there can obviously be value in obtaining a 4-year degree. I'm a big fan of going to college if (and only if) your chosen career requires it. But I'm less of a fan if you're going just because everyone around you thinks it's the only way to succeed.
Before you sign up for classes, taking a moment to really define 'how do I want to live my life,' and putting personal values first, can potentially set you on a better path.
Every young person should take a step back and evaluate what they (not their parents, not their friends, THEY) want out of life. Is it money? Family? Balance? All of the above? That should become their baseline.
Deciding what you really want out of life will help narrow the focus to careers that map to those goals. There are so many active and physical careers people often don't consider, such as forest ranger, firefighter, or electrician. And all of these promise to have around 50,000 new job openings in the coming years. Working for Corporate America doesn't have to be your end goal in life if it's just not the right fit for you.
Young people should see that it is okay to pursue college—or not pursue college. It's okay to take the road less traveled. In fact, it may end up being the best decision of your life.
Thank you for tuning in to The Perna Syndicate today! Tomorrow we will wrap up the week with a discussion of success on our own terms. See you then!
---
---
---