753-The Non-Traditional Route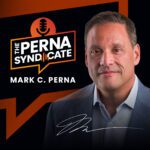 Episode: 753
Episode Title: The Non-Traditional Route
To cross the growing gap in public healthcare, we need to explore training opportunities beyond the traditional college path. Let's talk about it, next on The Perna Syndicate.
Ep 753 show:
Hello and welcome to The Perna Syndicate! Through my work, I've met so many young people who just aren't ready or interested in pursuing a 4-year degree. This is becoming more and more common, especially given the rising cost of financing their education. One field that many see as being beyond their reach is the medical field.
But through programs like Public Health AmeriCorps, young people can access skill-building opportunities outside the traditional higher education track.
There are organizations recruiting thousands of young adults across America to gain firsthand experience in public health careers, without the traditional 4-year track. They do this by providing hands-on experience and training to young people while they are completing a year of service. The best part is that they are paid and even receive additional money that can be used to further their education
By participating in programs like this, young people gain the opportunity to tackle today's most pressing public health challenges—including health equity, mental health disorders, COVID-19, and more. Members also receive professional development opportunities, a living allowance, money for college or trade school, and student loan deferment, along with other benefits.
With models like this, more young people from all backgrounds will be able to access a career in public health. By making it easier for young people to pursue healthcare careers, we are building a brighter future for everyone.
Thank you for tuning in to The Perna Syndicate today! I'll see you tomorrow to talk about how difference-makers thrive in healthcare professions. Catch you then!
---
---
---