721-Asynchronous Autonomy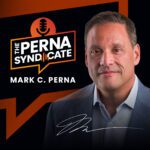 Episode: 721
Episode Name: Asynchronous Autonomy
If your remote work culture expects instant responses from everyone, every time, you could be on the high road to burnout. Here's why, next on The Perna Syndicate. 
Ep 721 show:
Welcome to a new week on The Perna Syndicate! I'm your host, Mark Perna, and today we are continuing the conversation about remote work. Specifically, I want to look at how we can build a culture that proactively prevents burnout before it starts for employees who work from home. 
How companies communicate is a key component of a good workplace, but it's going to look a lot different remotely. Today, organizations need to embrace what's called "asynchronous" communication. This means that, due to different time zones and work schedules, people will naturally be communicating at different times of day and night. 
And that's why we can't expect an immediate response to every question, email, or comment. If we do, and this urgent mindset becomes the norm, we risk burnout for everyone. Things sometimes take a little more time in the virtual workspace, and that's okay.
Some companies incorporate apps like Slack to replace immediate responses in person, but embracing asynchronous communication is more than that. These apps aren't effective if employees feel pressured to bend over backwards every time they hear a notification ping.
Asynchronous workplaces are different from the traditional office, and they should be treated as such. Giving your team the autonomy over their response times is a big step toward preventing burnout all around. 
On tomorrow's show, we're going to cover 5 ways you can better communicate with your coworkers remotely. We'll see you next time for that conversation on The Perna Syndicate. Until then, take care!
---
---
---