717-The Mythical Remote Worker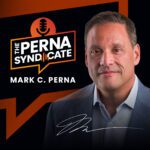 Episode: 717
Episode Title: The Mythical Remote Worker
If we want to succeed as remote workers, we have to confront the myths that persist about this model. Here are two big ones, next on The Perna Syndicate.
Ep 717 show:
You're now in The Perna Syndicate—welcome! In a world full of negative messages and conflicting opinions, we know that not everything we see and hear is true. Remote work is one area where this is evident, with a whole set of negative myths that just won't go away.
It's a myth that people have to be supervised in the office in order to be productive. In reality, it's more about how people approach work than where. Am I right? If you can build a team that leans into their natural ability, they will achieve beyond expectation—regardless of where they're located. 
There's another common myth that all remote workers are isolated and lonely. But the truth is, these are emotions that can be felt in any office, not just virtual ones. Building meaningful human connections can help minimize these feelings, both in person and remotely. 
Myths like these persist because many times, employees lack the information and coaching to make remote work as fulfilling as it can be.
It's up to employers to challenge the stigmas of remote work. If they utilize the strengths of their team and forge real connections, they are providing tools to make remote work fulfilling. 
This is the kind of culture where myths are dispelled and doors are opened to both you—and your people. 
That's all for today—thanks for tuning in! Tomorrow on The Perna Syndicate, we'll talk about 3 non-negotiables that make remote work, well, work! Take care and I'll see you then!
---
---
---