69 - "Apprenticeship Changed My Life"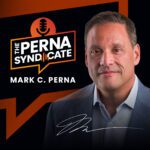 Episode: 69
Episode Title: Austin's Story: "Apprenticeship Changed My Life"
From a mediocre student to a successful business owner, Austin's journey started with apprenticeship. Stay tuned for his story—coming up next.
Ep 69 show:
Hello and welcome—you're in The Perna Syndicate! As National Apprenticeship Week 2020 continues, I want to tell the story of an apprentice who today owns his own electrical contracting business. 
Meet Austin Boop. During most of high school, he was an unmotivated student. That all changed during his senior year, when he began his career as a 17-year-old electrical apprentice. 
It all started with a counselor who saw the value of apprenticeship. Despite the pressure for everyone to go to college, Austin's career counselor challenged him to take a hard look at different industries. She worked with him to discover the career he could be passionate about—and then supported his choice. 
Apprenticeship was the right pathway for Austin, but that didn't mean it was easy. Long days of work and then class, plus extreme work conditions, challenged his resolve. But, there were also rewards. Austin found that actually working in the field he was learning spurred him on to higher performance in other areas—like earning the highest GPA among his classmates for all four years of his apprenticeship.
Today as a successful entrepreneur, running his own company, Austin is training his own apprentices with the skills they need to launch successful electrical careers. 
Apprenticeship is the training that keeps on training, and we need more of it. Austin says, "Apprenticeship changed my life." His story may remind us of the unmotivated high schoolers we know—and show us what they too can achieve. 
Tomorrow, we'll wrap up the week with Austin's advice for young people who are considering apprenticeship. We'll see you then!
---
---
---