676-Mentoring in a Remote World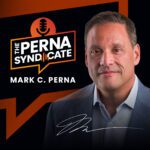 Episode: 676
Episode Title: Mentoring in a Remote World
Much of the workforce is still remote, so how can people stay connected and advance their careers? Mentoring is the answer, next on The Perna Syndicate.
Ep 676 show:
This is The Perna Syndicate and I'm your host, Mark Perna. Thanks for tuning in! Despite the steady trend of people heading back to the office, remote and hybrid work are here to stay. Today's workforce demands the flexibility that these options afford.
But there's a catch when employees, especially those from the younger generations, work from home exclusively. They're limited in their ability to build the peer-to-peer relationships that produce valuable insights and propel their careers.
Even younger employees, who were raised in a digital world, can find themselves coping with feelings of isolation and disconnection—especially at a time when there is so much uncertainty.
The good news is that there's a win-win solution that both addresses the need for flexibility in where and how employees work, while also helping them feel connected to their peers. This solution is an effective mentorship program.
Mentoring can keep employees connected while empowering them to unlock their full potential—especially young people just starting out in their careers.
And that will be our topic this week. Whatever side of the mentoring relationship you're on, I'll be sharing the latest insights on how you can make mentoring matter in your journey. Join me next time on The Perna Syndicate for more!
---
---
---