669-Beating Burnout When You Work Two Jobs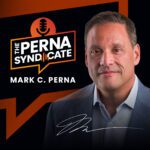 Episode: 669
Episode Title: Beating Burnout When You Work Two Jobs
If you're feeling like burnout is on your horizon, these 4 reminders can help head it off. Stay tuned for more, next on The Perna Syndicate.
Ep 669 show:
You're now in The Perna Syndicate—thanks for coming by! All week, we've been talking about the 7.7 million U.S. workers who are working multiple jobs. Maybe you're one of them, or are thinking about taking on another role to make ends meet in this challenging economy. 
Whether you're working two jobs or just one that feels like two, there's a few things you can do to beat burnout before it starts. Life is stressful, work is demanding, and we can all use reminders like this to safeguard our mental health. 
First, set some boundaries. If at all possible, draw some lines between your work and personal life—and try to stick to them. 
Second, take breaks. Even short breaks throughout the day can refresh your mind and help you stay focused. 
Third, get enough sleep. Ok, this one's hard, but staying well-rested is essential for you to bring your best to work every day. 
Finally, have a little fun. Carve out a window of time every week where you can engage in activities that you enjoy with the people you care about. 
While I just work one job, sometimes it feels like more than that! Coming back to these four basics really helps me re-center and stay focused on what matters—at work and at home. 
Tomorrow, I've got one more strategy to manage the pressure of holding multiple jobs. Join me next time on The Perna Syndicate! We'll see you then.
---
---
---