66 - Kicking off National Apprenticeship Week 2020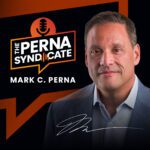 Episode: 66
Episode Title: Kicking off National Apprenticeship Week 2020
National Apprenticeship Week 2020 is happening now. Here's why more people should know about it—coming up next. 
Ep 66 show:
Hello, and welcome—you are now in The Perna Syndicate! The 2020 National Apprenticeship Week is happening now, and the world needs to know about it. Why? Because chances are, everything around you was built by trade professionals who first entered their field as humble apprentices.
Apprenticeships have been around longer than America, but they're finally coming into their own. The Department of Labor defines apprenticeships as "industry-driven, high-quality career pathways in which employers can develop and prepare their future workforce, and individuals can obtain paid work experience, classroom instruction, and transferable credentials."
Apprenticeships have evolved with the times, leaving stereotypical blue-collar work behind. With the technological advances in all fields, many apprenticeship pathways now lead to "grey-collar" positions that demand both physical labor and the high-level critical thinking, communication and professional skills often associated with a college education. 
Today, there are apprentices in all the usual fields like construction, advanced manufacturing, electricity, plumbing, HVAC and welding—alongside a growing number in less traditional industries like healthcare, financial services, transportation and IT. 
This week, we're going to take a deeper look at the apprenticeship model and how it can help close the skills gap in America. We'll also hear from a former apprentice who is now training apprentices of his own in a high-paid, in-demand field. See you tomorrow!  
---
---
---