655- Giving Gives Back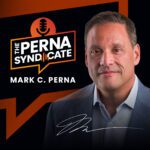 Episode: 655
Episode Title: Giving Gives Back
What if you want to make a positive difference for a cause you believe in, but you just don't have the funds? We'll cover some creative ways to give, next on The Perna Syndicate.
Ep 655 show:
Hello and welcome to The Perna Syndicate today! All week we've been talking about the latest research on charitable giving. One thing that might be easy to overlook is how giving benefits the giver as well as the cause. 
In addition to feeling gratitude for the work nonprofits do, donors feel like they're part of a greater solution. They also report feeling good about themselves as a result of giving. 
But what if you can't give much? Are you excluded until your financial situation improves? Not necessarily. One way to make a big impact over time is to give small amounts on a regular basis, almost like a subscription model. This can allow you to better budget your expenses and ensure that you can continue to give back to a cause you believe in.
And of course, giving isn't just about the money. Volunteers are an important part of many nonprofits, and there are many ways to plug in. Even just using your social media to raise awareness can give your favorite charity a big boost. And don't forget to check with your employer about any charitable matching perks they may offer. 
In an uncertain economy, people are still coming through for the causes they believe in. Whatever amount, time, or talent you can give, the act of giving gives back. And that's something we can all feel good about. 
Thanks for listening to The Perna Syndicate this week! I'm your host, Mark Perna, and we'll see you back here next week for more on The Perna Syndicate. Take care!
---
---
---