640- Apprenticeship or College: How To Choose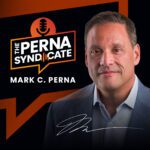 Episode: 640
Episode Title: Apprenticeship or College: How To Choose
Price, personality, and pressure: these are three vital things to consider when choosing a career training pathway. Here's why, next on The Perna Syndicate.
Ep 640 show:
Welcome to The Perna Syndicate today! Young people have a lot of choices when it comes to training for a great career. So how do they pick one?
College is the traditional choice, while apprenticeships are making a big comeback. There are pros and cons to each, which is why I recommend that each young person evaluate these options in light of three things: price, personality, and pressure. Here's what I mean.
The first set of questions centers on price. How much will this option cost? Am I (or my family) ready to take on debt? If so, will the career at the end of this road pay enough to make it worthwhile? If not, what low or no-cost training options would work for me?
Next, young people can assess their own personality. Do I learn better through lectures or through hands-on experiences? What do I love to do? What gets me excited? What am I passionate about?
Finally, young people should understand any pressures they're feeling from outside sources. Are they only considering college because their parents want them to go? Is apprenticeship on their radar only because a family member did one? Outside pressures shouldn't make the decision for you. 
Sometimes, it doesn't have to be one or the other. Maybe your journey will take you both through an apprenticeship and into college, or vice versa. There is no bad option, as long as you go with purpose and have a viable plan to get it done—and make a living wage at the end of it. 
Thanks for listening to The Perna Syndicate this week! I'm your host, Mark Perna, and we'll see you back here next week for more on The Perna Syndicate. Take care!
---
---
---