639- Apprenticeships: Too Good To Be True?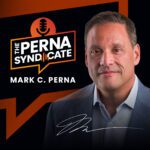 Episode: 639
Episode Title: Apprenticeships: Too Good To Be True?
Get trained and get paid for it—that's what apprenticeships are all about. Is it too good to be true? Let's answer that question, next on The Perna Syndicate.
Ep 639 show:
You're now in The Perna Syndicate! All week, we've been celebrating the fact that young people have more postsecondary training options than ever. College, great as it can be, is no longer the only way to win. Apprenticeships are quickly gaining ground as people weigh the costs of education against the earning potential of their future career.
But not everyone sees the value of these hands-on pathways yet. One of the most common barriers, says Sophie Ruddock of Multiverse, is that young adults think the tech apprenticeship model is too good to be true. Some even think it's a scam. 
Why might they think this? Of course, the biggest benefit is the ability to earn money from day one. Many apprentices earn salaries that range between fifty to seventy thousand. What's more, 68% of apprentices are promoted or receive a raise during their apprenticeship. 
In many cases there is zero cost for the apprentice. They earn a competitive salary while getting in-demand skills training. It's little wonder that some think, 'What's the catch?'
Some of this is simply because we are still in a period of early adoption among employers. Nationwide, we need more companies to create opportunities for jobs and training for young adults. Organizations that lead the way in apprenticeships will position themselves, and their employees, for a successful future. 
And no, it's not too good to be true. 
Next time: How can young people choose between college and other options like apprenticeships? We'll share three big pointers, so be sure you're subscribed to The Perna Syndicate on your platform of choice. Take care, and we'll see you then!
---
---
---