637- Why Didn't We Do This Sooner?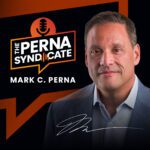 Episode: 637
Episode Title: Why Didn't We Do This Sooner?
Not only can apprenticeships train new workers, they can also reskill the existing workforce. It's a win-win and here's why, next on The Perna Syndicate.
Ep 637 show:
Welcome to The Perna Syndicate today! In a time when the ROI of college is in serious question, young people need more options for where to go after high school. And I'm thrilled that today, they're getting access to these choices in greater numbers than ever before. 
Apprenticeships especially are seeing a resurgence as an affordable, effective way to prepare for the real world of work. Though apprenticeships have been around a long time for traditional fields like the trades, emerging industries like tech are now discovering the power of these pathways. 
Hands-on, earn-while-you-learn training is a powerful incentive for new talent to join the field. Train me and pay me at the same time? Yes please!
Not to mention that apprenticeships have a role to play for existing employees, too. As fast as things are changing nowadays, employers need solutions to upskill their current employees. A thoughtful apprenticeship program can accomplish this with a laser focus on developing the skills employers actually need. 
The employees gain the marketable skills they need to thrive, while the company gains highly qualified workers who can help the organization stay competitive. 
When it comes to apprenticeships, the only question is, why didn't we do this sooner? 
Tomorrow on The Perna Syndicate, why isn't college meeting the needs of every learner? We'll cover that and more on the next episode…see you then!
---
---
---