615 - Skill Up For Job Security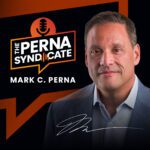 Episode: 615
Episode Title: Skill Up For Job Security
Do you learn new skills to build your career, or just salvage it? Here's why keeping your skills fresh is more than just a safety net, next on The Perna Syndicate.
Ep 615 show:
Hello and welcome to The Perna Syndicate! All week we've been talking about job security if the market goes south. Regardless of the economy, employers will always be on the hunt for candidates who can diversify beyond their core responsibilities to support the business. 
Keeping an eye on what skills are trending and what capabilities are most in-demand is also a good way to target your learning. What are some in-demand skills you can brush up on? Things like digital and data literacy, emotional intelligence, and leadership skills are always vital in our fast-changing world. 
To become a stronger candidate, you could also consider learning new technical skills outside of your current area of expertise. You could take on additional job responsibilities, or even transition to a new department or company entirely as demand ebbs and flows. 
Skilling up isn't just a safety net in case your job disappears. It's also a great way to stay focused on building your career, rather than falling into the mindset that you're just salvaging it. 
In the big picture, economic downturns come and go. The market always moves in cycles. Even if we're in for a tough time, it won't last forever. No matter how secure you feel or don't feel in your current role, constantly growing your skills set will put you in the best position for the right job, at the right time. 
That's it for this week! I'd like to thank everyone who has taken the time to leave a review for The Perna Syndicate on their favorite platform. It's a big help to get the word out and continue shifting the paradigm in education, employment, and economic development. See you next week for more on The Perna Syndicate!
---
---
---