596 - Gratitude From the Heart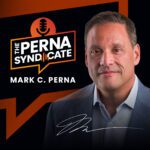 Episode: 596
Episode Title: Gratitude From the Heart
Does saying "thank you" feel automatic and maybe even a bit meaningless to you? Here's why gratitude is always important at work, next on The Perna Syndicate.
Ep 596 show:
Welcome to The Perna Syndicate! I'm your host, Mark Perna. For those of us in the U.S., it's the week of Thanksgiving, which is always a good reminder to evaluate what we're thankful for—and how we're expressing that gratitude.  
I think sometimes it's easy to gloss over the power of saying thank you, especially at work. For those of us trained to say "thank you" from childhood on, it might even feel automatic rather than from the heart. And yet, it can still make a huge difference, especially in the workplace. 
I've talked before about the study by Workhuman, that found workers who are thanked and recognized for their work are half as likely to be looking for a new job. Thanked employees are doubly engaged at work, and those who feel recognized are three times as likely to think their work has meaning and purpose. And finally, employees who feel recognized also report being happier at work. 
All of this is a big deal in the age of the Great Resignation, which isn't over yet. Organizations that want to retain their people need to make sure they're thanking them. 
Gratitude isn't just a virtue to practice once a year. Instead, expressing gratitude from the heart should be a part of our everyday routine at work. It will have a positive impact, not just on those around us, but on the work culture as a whole.  
Next up: what's the most meaningful way to thank a Gen Z employee? I'll give you a hint: it's not a handout. Tune in and we'll see you tomorrow on the next episode of The Perna Syndicate!
---
---
---